Placing your cursor over the image pauses the show and reveals text.

Event

The 65th Annual Appleton Flag Day Parade will be held on June 13, 2015, and will be a tribute to the U.S. Navy and will honor the many faces of freedom. The Honorary Parade Marshal will be a high-ranking Navy officer.
The Parade will feature military units and military marching bands from throughout the nation — and will include about 100 total units displaying patriotic themes. Units will consist of veterans' organizations, scout troops, patriotic floats, decorated vehicles, walking units, along with marching bands.



This year's Parade will highlight the U. S. Navy, and honor the many faces of freedom
• Date: Saturday, June 13, 2015
• Time: 2 p.m. – 4:30 p.m.


This year's Parade will follow its traditional route
This year's Flag Day Parade will use the traditional staging area and route.
For details and a map, see the Route page.

We salute the United States Navy Reserve celebrating their 100th year

Parade Grand Marshal
Each year the City of Appleton Flag Day Parade's Grand Marshal is the American Flag. "Old Glory" rides in the Parade's lead vehicle to kickoff the oldest Flag Day Parade in the nation.

In 1949 the Appleton Elks Club made the decision to honor the U.S. Flag with a community parade. The Elks, many of whom were WWII veterans, wanted each citizen to be proud to live in the United States of America and to appreciate their freedom. That same year, an Act of Congress signed by President Truman officially recognized June 14th as National Flag Day. The first Flag Day Parade in Appleton was held in 1950.


Escorting the U.S. Flag
This year's Escort to the U.S. Flag in the Parade Grand Marshal Jeep will be Ed Jacobs — U.S. Navy Vietnam Veteran as an electrician, lifelong Appleton resident, and 2nd generation owner/operator, retired, of Jacobs Meat Market on Lawe Street in Appleton.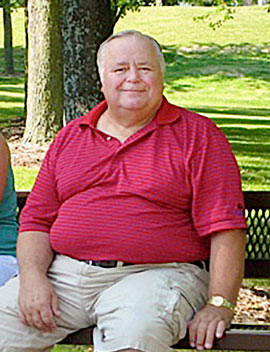 Ed Jacobs worked at the family store out of high school, and then joined the Navy. His home port was in San Diego, CA. He served as an electrician aboard the USS Stoddard DD-566. When he returned to Wisconsin he joined the Naval Reserve in Oshkosh, and served with that unit for a little over a year. He transferred to a Naval Reserve unit in Appleton and retired from there. He would have stayed in the Navy for many more years, but had an obligation to the family business. Ed retired from the Navy as a First Class Electrician (E-6).

Honorary Parade Marshal
The 2015 Honorary Parade Marshal will be Rear Adm. Gerald W. Clusen. Rear Adm. "Jerry" Clusen is a native of Manitowoc, WI. He enlisted in the Navy Reserve in January, 1971, and served in various Navy Reserve assignments in the states, shipboard, and in Vietnam until receiving a direct commission in 1983 as a special duty officer (cryptology). After 42 years of reserve and active naval service, he retired in September, 2013 from the position of information dominance warfare officer.
Clusen's Private Sector Career
Clusen retired from Kimberly-Clark Corporation after more than 28 years in manufacturing operations, engineering and maintenance management; and project leadership in information technology, manufacturing computer security and product and technology development. He holds a Bachelor of Science degree in Computer Science from the University of Wisconsin – LaCrosse.
Active Naval Assignments
In 2011, Clusen completed a three-year active duty recall assignment serving as Naval Network Warfare Command special assistant for Reserve Affairs (N03R) and as deputy commander and then commander of Navy Net-Centric Warfare Group through disestablishment in September, 2011.

His previous assignments included tours with the Naval Security Group Command and the National Security Agency, Fort George G. Meade, Md.; Naval Security Group Activities in Adak, Alaska and Hanza, Okinawa; Joint Analysis Center, Molesworth, England; and the Fleet Information Warfare Center Headquarters, the Naval Network Warfare Command and the Navy Information Operations Command in Norfolk, Va.
Spanning Different Eras
At Clusen's retirement, Vice Admiral Michael S. Rogers pointed out that Rear Adm. Clusen began his career working with an information platform that had been used in World War II — and at retirement had been working with the cutting-edge platform that holds the cyber-future of the U.S. Navy. Adm. Rogers said: "Stop and think about that for a minute."
Clusen's 42-year Navy career: a surprise and a rewarding opportunity
Clusen says he didn't plan to make a career in the Navy but he is "thankful for the opportunity to be shaped by people who sincerely care about what they do and are committed to getting the job done."
Featured Groups...
Confirmations by military groups may be delayed or changed by the possibility of their units being assigned to developing situations.
The Navy Band Great Lakes has had the theme "Pride in Service" since 1911, when the band was formed, to 1917, when the bandmaster was Lieutenant Commander John Philip Sousa.

Today the Director is Lieutenant Patrick K. Sweeten. The music represents the pride and professionalism that is synonymous with the United States Navy.

The Navy Band Great Lakes serves the mission of transforming volunteers into 21st century Sea Warriors. It performs in many Navy ceremonies — honoring recruits, Sailors, and their families. The band also is the Navy's "Ambassadors to the Midwest," and plays for hundreds of thousands yearly.
The Americanos Drum and Bugle Corps traces its origins to post-World War I veterans' organizations. The local American Legion organization, then known as Johnston Blessman Post 38 of Appleton, sponsored the Americanos' first incarnation in 1936. The corps was an all-male group called the Sons of the American Legion. They presented a Spanish theme that year, and do so proudly to this day.


Today the Americanos are an all volunteer coed unit comprised of Americanos alumni and Drum Corps supporters. Each year for the Flag Day Parade members assemble from across the country. The return of the corps to the Appleton Flag Day Parade was motivated by the recent passing of Bill Shultz — a passionate drum corps fan. Join the Americanos in City Park after the parade to pay tribute to Bill Schultz. They will play his favorite song: "You'll Never Walk Alone" from the 1956 Rodgers & Hammerstein musical "Carousel."




Appleton's American Legion Post No. 38
to Host Annual Post Parade Party

The annual Post Flag Day Parade Party is scheduled to include two performances. The 2D Marine Aircraft Wing Band will perform at 5:00 p.m. A Parade Party Poster (500K PDF) can be downloaded here. Marty's Goldenaires will play at 6:00 p.m. More info on both groups can be found on the Featured Groups webpage.

The event is open to the public and will be Saturday, June 13, at Don Hawkins Baseball Field on the grounds of the Appleton American Legion Post #38 at 3220 W. College Avenue. Free admission! Food and refreshments will be available at a minimal cost. Other groups or performances may be added as plans develop.


TV Coverage...
WFRV‑TV Local 5 will videotape the Parade for rebroadcast on Saturday, June 13 at 10:35 PM – 12:05 AM.

It will be shown a second time on WFRV‑TV Local 5 on Sunday, June 21 from 11:00 AM – 12:30 PM.


Photo credits...
Photos of the Appleton Flag Day Parade are courtesy of Bill Siebers, Jeff Lindsay, and AmericaTheBeautiful.com
©2015 Flag Day Parade Committee