Featured Groups...
Will be added here as they are scheduled to appear
A selection of the many prominent and entertaining groups will be highlighted here as commitments are confirmed. The Parade features military units and military marching bands from throughout the nation, scout troops, civic organizations, and veterans groups. About 100 units will participate – displaying patriotic themes.

Commitments to appear made by any military unit may be subject to change based on contingencies affecting the service of which they are a part.


2D Marine Aircraft Wing Band
THE 2D MARINE AWB, based in Cherry Point, North Carolina, travels more than 50,000 miles annually carrying on a long-standing tradition of excellence and service to both Corps and Country.

With an authorized strength of one officer and 50 enlisted Marines, the ensemble promises an exciting, versatile performance that the entire family will enjoy. The band has an extensive repertoire — familiar marches, patriotic favorites, jazz, and popular contemporary music.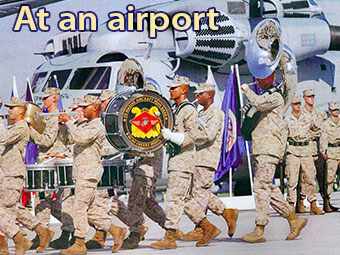 Pioneer Drum & Bugle Corps
THE PIONEER DRUM & BUGLE CORPS & COLOR GUARD is a World Class (formerly Division I) competitive junior drum and bugle corps. Based in Milwaukee, Wisconsin, Pioneer is a member corps of Drum Corps International (DCI), and was one of its founding members.

Pioneer traces its roots to the St. Patrick's (Catholic) parish of Milwaukee and its drum and bugle (D&B) corps, the Imperials of St. Patrick, founded in 1961. Pioneer became a regular competitor in the Midwest region during the remainder of the 1970s, and in 1978, the corps was one of the founding members of Drum Corps Midwest (DCM) which was to become the premier regional circuit in North America over the next quarter century.

The 484th Army Band of Milwaukee
THE 484TH will perform in the 2017 Appleton Flag Day Parade. Army Bands provide music throughout the spectrum of military operations to instill in our soldiers the will to fight and win, foster the support of our citizens, and promote our national interests at home and abroad.


Antique, horse-drawn funeral coach


The horse-drawn funeral coach symbolizes the heroes lost in battle. One of the many faces of freedom lost due to their selflessness. Flag Day Parade appearance sponsors are Wichmann Funeral Home and Riverside Cemetery.

©2017 Flag Day Parade Committee